Van Buren County Attractions
Indian Rock Cave Trail in Fairfield Bay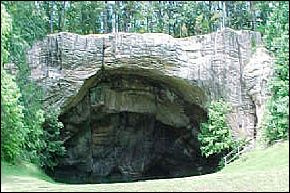 This trail begins by taking the steps down on the left side of the Old Log Cabin and returns on the right side. This path leads to Indian Rock House where De Soto visited the Indians in 1542 while seeking the Fountain of youth. The path continues along the Indian Hills Golf Course, rising and returning along beautiful bluffs. Scenery, boulders and coves can be explored and enjoyed by all ages. 3/4 mile; Moderate Trail



Find out More about the trail at FairFieldBayFun.com
Natural Bridge of Arkansas
Directions: Located four miles north of Clinton off U.S. 65 Hidden away in the scenic beauty of the Ozarks, this 100-ft. sandstone formation was millions of years in the making.
The stone archway was actually used as a bridge during pioneer days. Facilities include a log cabin museum and gift shop. Open mid-March through October.

To learn more about the Natural Bridge and other attractions near Clinton:


Head over to the Clinton Arkansas Chamber of Commerce's Website.
City of Shirley Train Bridge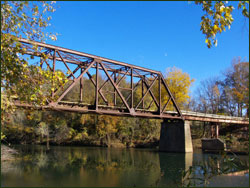 An old Missouri & North Arkansas Railroad bridge remains in Shirley, Arkansas, abandoned by M&NA in the 1940s. It's very narrow, but road crews have put down a layer of concrete on the bridge, so it's easy to drive on. The bridge crosses the Little Red River..

Shirley is located about 100 miles north of Little Rock in the Ozark Mountains. It has a population of 337 and is known for growing mushrooms.


Learn more about the railroad and bridge at ThunderTrain.org
Greers Ferry Lake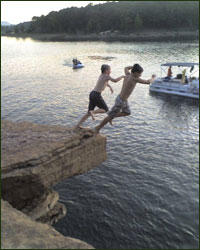 The Greers Ferry Lake and Little Red river area of Arkansas offers exceptional opportunities to explore the great out-of-doors. Whether your tastes run to fishing, boating and other fun on the water or golfing, hiking, biking and hunting, this is a place where you can do it all. Our playground
extends from the Ozark foothills to the edge of the delta.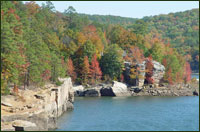 Here, you can cast for bass or trout one day and hit the duck blinds the next. In season, of course. This is one of the few places in the country where it's possible to fish for largemouth bass, white bass hybrids, walleye and trout all in the same day. Yes, that's pushing it, but it is possible for the adventurous and energetic angler.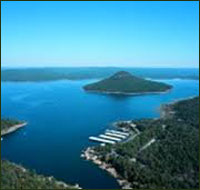 But, there's no rush. Take it easy. Relax and fish to your heart's content. You might even land a trophy if you fish long enough. After all, Greers Ferry Lake still holds the world record for walleye and hybrid striper. And that big old German brown trout caught on the Little Red River held the record for nearly twenty years.

Splash and swim in sun-kissed Greers Ferry Lake. There's lots of room to ski and make waves. Boaters, sail boaters, water-skiers, house boaters, scuba divers and the party barge folks all get along because they seldom cross paths in this 40,000-acre expanse of sparkling clear water. And, all around the lake are resorts, bed-and-breakfast inns, marinas, shopping and woodsy green spaces for camping and hiking.



Interested? Find out more at GreersFerryLake.org
National Champion Chuckwagon Races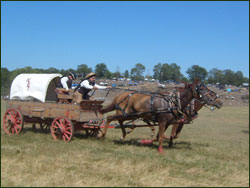 The National Championship Chuckwagon Races are held Friday through Sunday every Labor Day Weekend at the Of Ranch in Clinton, Arkansas. An estimated one hundred fifty teams compete in five different divisions for the title of National Champion.

An estimated 20,000 plus people will be on hand to watch the excitement of chuckwagon racing, bronc fanning and the Snowy River Race - a thrilling horse race that includes two downhill runs and a plunge into the river.



There's more to see at ChuckWagonRaces.com